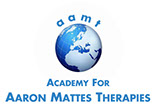 ACADEMY FOR AARON MATTES THERAPIES
The only accredited training provider of active isolated stretching (AIS) outside of the United States.
AIS is a recognised world wide practice which has helped people where other therapies have failed. This academy is sanctioned by Aaron Mattes, the founder of this unique form of stretching, who has developed this technique for 45 years. He continually improves AIS by studying anatomy, physiology, bio mechanics and practicing as an AIS clinician.